TFWA asia-pacific free fair well packaged!
Suzhou Waytone Footwear Co., LTD 2019-05-17 12:46:30 Author:admin Source: Font size:[Large][Middle][Small]
On May 12 - May 16, as global duty free and travel retail industry managers do not miss the top event, TFWA asia-pacific duty-free exposition, marina bay sands in Singapore international convention &exhibition center held successfully.Global duty-free operator, suppliers, the airport authorities, industry media coverage lion city.
The exposition almost covers the global tax exemption of FMCG high-end brands and luxury brands, at the same time, TFWA asia-pacific conference enables buyers from all over the world to establish cooperation with leading duty free and travel retail brand network and do business, is the premier event of its kind in travel retail and duty-free.
In order to better and faster to open tax-exempt market in southeast Asia, suzhou waytone CEO ms Shelley with business colleagues keep attending the exhibition at home and abroad, to show the brand "LMOY rhyme" in many new products, to convey the brand concept of fashion, comfortable, lightweight, rich ethnic style during the period of brand new products with profound brand culture, attracted a lot of media attention, the exhibitors from dozens of countries and international duty free operator of interest, have expressed willingness to further cooperation.
LMOY booth with orange logo color color, orange and white design to the whole booth decorated bright, atmosphere.International duty free, operators, and the company's business personnel for further communication.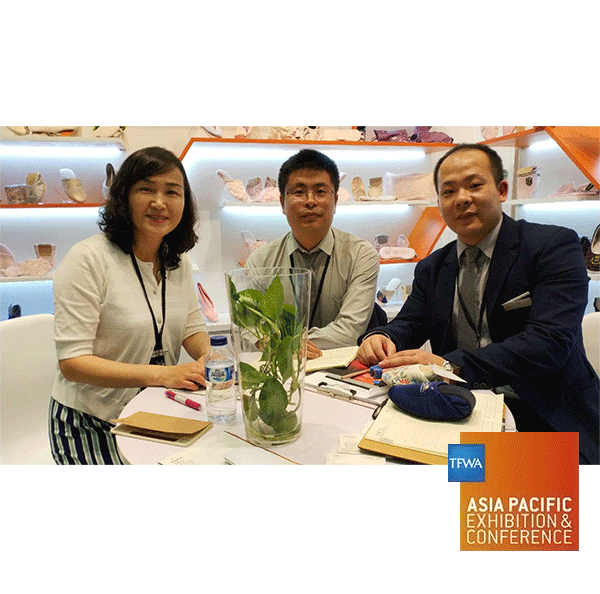 on the eve of LMOY develop markets at home and abroad business people have to make an appointment in advance to visit Singapore local customers, to seek more business opportunities.To grasp the business opportunities, show business people have also been customers booking in advance, booth desk, filled with the customer communication, so a lot of harvest.
During the exhibition, LMOY through frequent communication with import and export companies and operators, a more comprehensive and in-depth understanding of the development of international duty free market situation and development trend of the future light footwear market, at the same time the image of its high-end light indoor shoes in free markets in the asia-pacific region and the rest of the world will be further consolidated and strengthened.As the first domestic textile enterprises exhibitors TFWA asia-pacific representatives of duty-free exhibition LMOY will travel among China's textiles into international airport duty-free market, is the first stop is also opening.All the way in the "area" strategy under the background of international cooperation, to increase the duty-free products to overseas market development, further implement the national brand internationalization process has important significance.